Make Your Materials More Realistic With Surface Decalsa:
In these video tutorials, you'll learn how to create believable and frequently distinctive details to your construction materials and other surfaces.
Look closely at some of the objects and surfaces you are surrounded by. What distinct features or minor flaws do you notice?
Materials and surfaces eventually take on a life of their own in the actual world. They respond to and engage with their immediate environment. They frequently can't conceal their age and deterioration and represent factors like regional culture and practical usage.
These characteristics give a building and its surroundings a sense of genuine realism in digital renderings. They signify the distinction between a lovely depiction of your building's design and an encounter that almost makes you feel as though you are viewing the actual thing.
Fortunately, the surface decals feature in Lumion makes it very simple to include these qualities into the materials in your designs. Surface decals, which are only available in Lumion Pro, let you quickly add wall art, murals, patterns, scratches, markings, signage, and even damage and defects.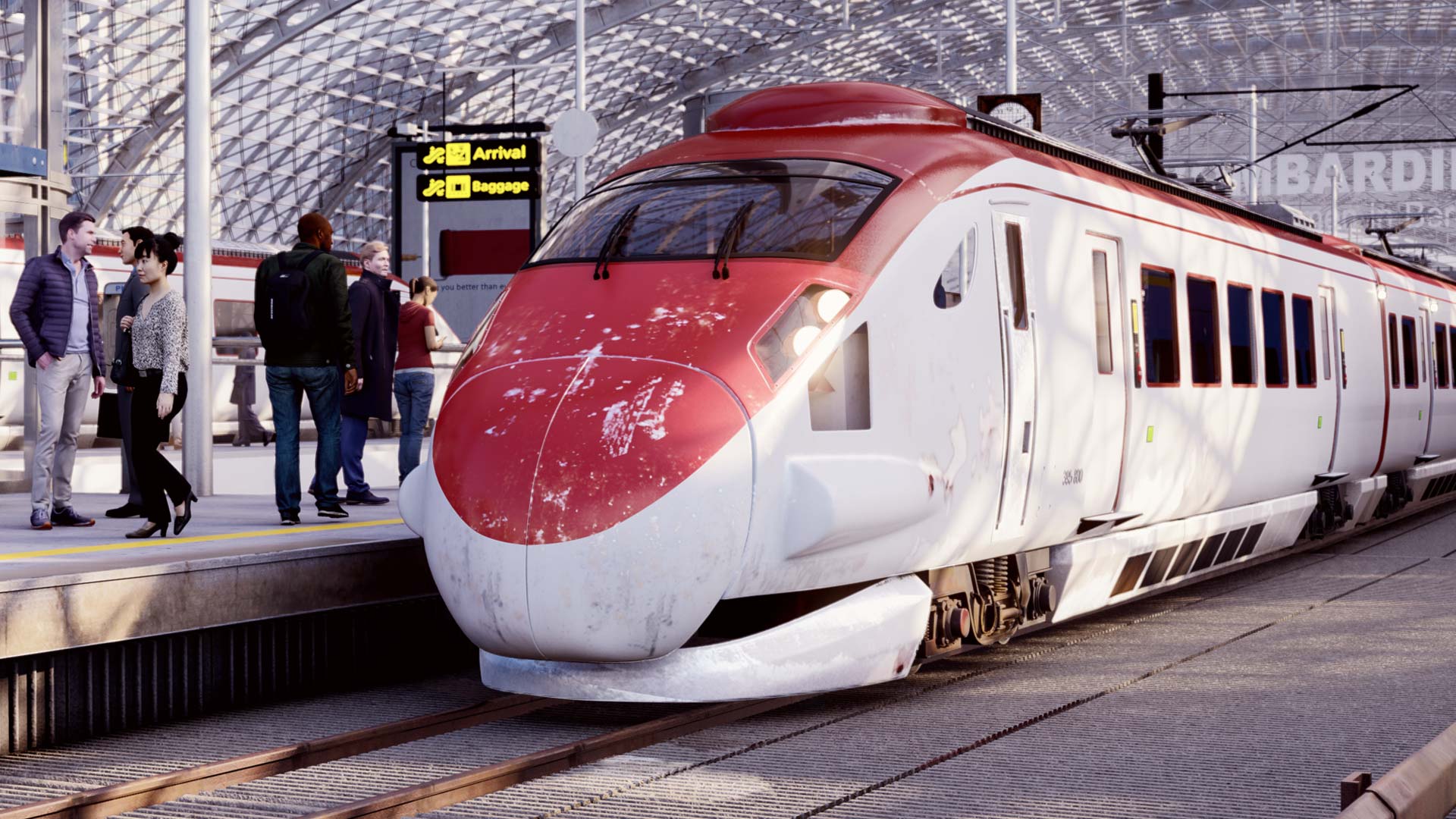 The Lumion Pro content collection includes 142 surface decals, but it simply serves as the beginning because any image may be converted into a unique decal that can be applied to any surface in your project.
You may import your own custom decals and learn everything there is to know about surface decals in this blog post. Join the free business trial to access the full decal content library and the custom decals tool, and to follow along with the video instructions while using the surface decals feature on your own Lumion project.
How to add decals on surfaces in Lumion:
The 142 pre-installed surface decals provide the quickest and simplest method to adorn the surfaces in your Lumion project with artwork and flaws. For a quick overview of how to apply and edit the built-in surface decals, see the guide below.
The Lumion content library's "Effects" section is where you can find the built-in surface decals.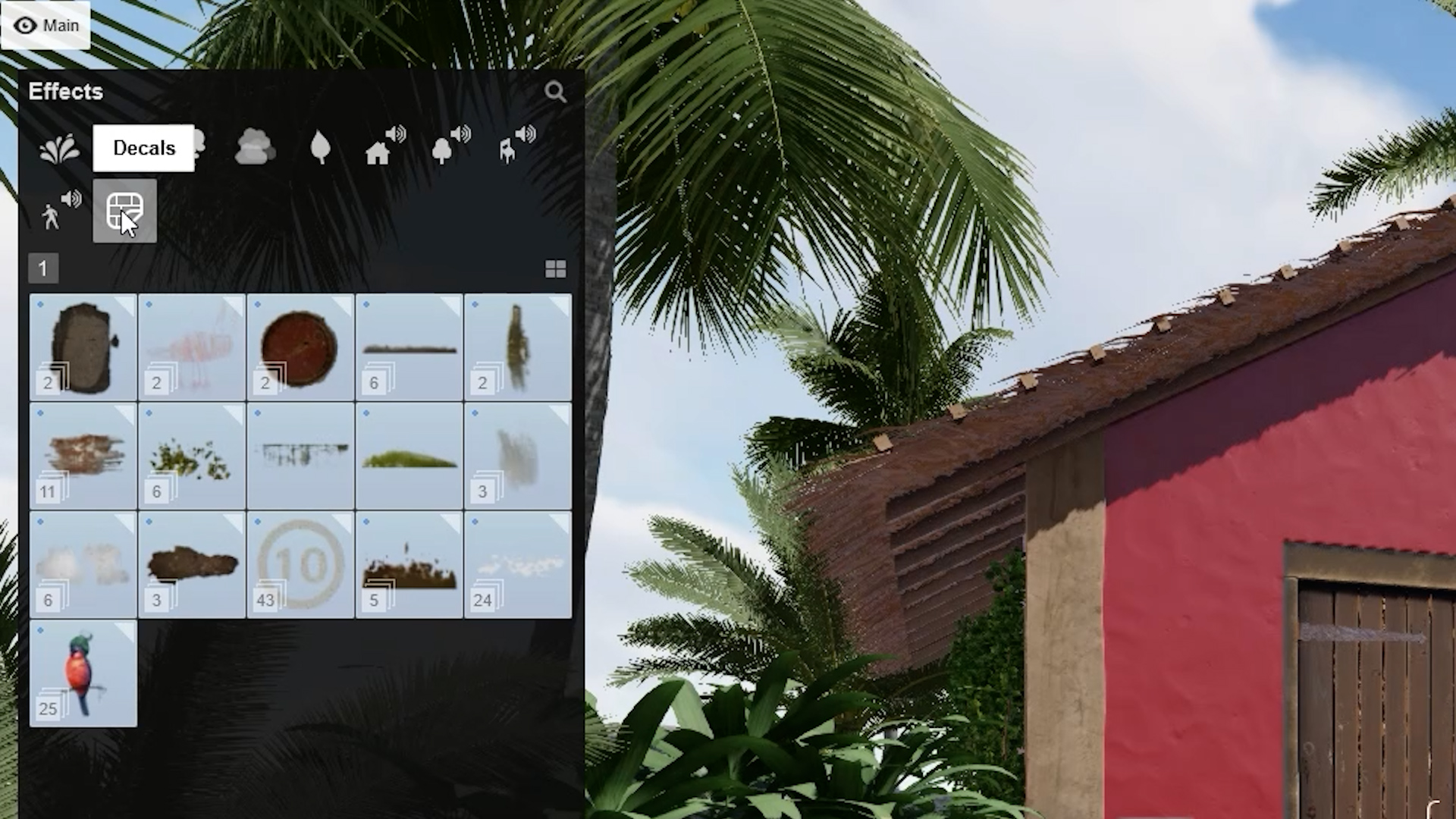 Once there, you can choose from a variety of sets of decals, including:
✓ Asphalt damage
✓ Chalk drawings
✓ Maintenance hole covers
✓ Dirt
✓ Drain damage
✓ Exposed brick
✓ Leaves
✓ Plaster
✓ Potholes
✓ Road markings
✓ Rust
✓ Wall damage
✓ Wall stickers
You'll note that when you apply a decal, it naturally adapts to the surface's shape. This is particularly helpful when applying decals to objects that aren't flat, such stairs or curved surfaces.
After it has been applied, you can change the decal's size, rotation, and other options, including colour, transparency, range, and orientation.
Your decal can be further customised by selecting "Show more" from the decal properties. For a more realistic texture, you can even alter the colour and normal maps.
How to add customised stickers to Lumion:
There may be occasions when you require a special, custom sticker that you can't find in the library, even if the 142 built-in surface decals cover a wide range of applications. In this situation, you are able to quickly import an image, and Lumion will transform it into a unique decal for you. The custom decal can then be applied and modified just like any other decal.
For a quick introduction to bespoke decals and instructions on how to utilise them in your project, see the video tutorial down below.
With the launch of Lumion 12.3 Pro, custom decals were introduced. This function is located in the content library's "Effects" category. This time, locate the Lumion logo decal and place your cursor over it. You'll notice the phrase "Custom decal."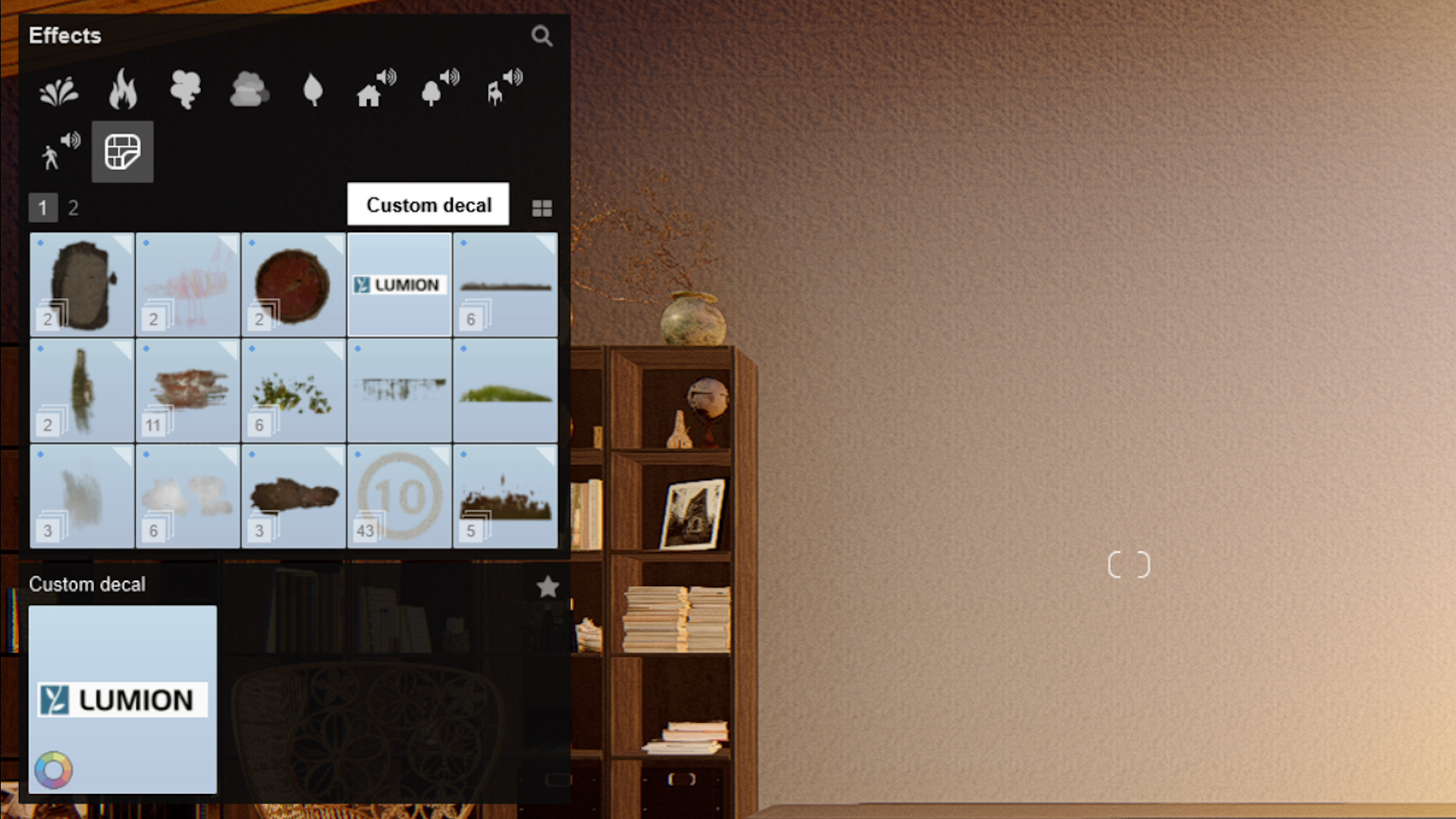 Click anywhere in your project to add the Lumion logo. Once the decal has been put in place, access the property settings and select "Show more."
To load your colour map, click the square next to "Blend colours." In essence, this is the image you'll import and convert to a decal. When you load the picture file, the Lumion logo instantly transforms into your personalised image.
Advanced tip: Add the image's normal map and tweak the "Blend normals" slider if the texture of the decal still doesn't feel correct.
Surface decals may breathe new life into materials:
With the help of Lumion's surface decals, there are countless opportunities to add a breathtaking degree of detail to your building, landscape, or urban visualisations. Create original works of art, patterns, murals, and other visuals, or simply add a little wear and tear to the render to make it appear more realistic. It's simple with the integrated and personalised surface decals.