How To Pair AirPods To Dell Laptop? (7 Simple Steps)
On eligible purchases, we might receive a small commission at no additional cost to you.
By releasing the AirPods and AirPods Pro, Apple has stoked a new wave of enthusiasm in the marketplace. When it comes to using AirPods to listen to your favourite music, it seems like nothing else compares. These can be Bluetooth-connected to your laptop. But what if your laptop doesn't have an integrated Bluetooth feature?
Well, no worries. Using a Bluetooth dongle, one may effortlessly pair their AirPods with a Dell laptop. If your laptop lacks a built-in Bluetooth function, Bluetooth USB dongles let you pair it with AirPods and other Bluetooth devices.
Continue reading this article if you want to learn more about AirPods and their connectivity because I'll go over every single detail you need to know about them.
Pairing AirPods with Dell Laptop
How To Pair Air Pods To Dell Laptop? [ 7 Easy Steps ] Do you wish to connect your Dell laptop to AirPods? Don't worry; we'll walk you through the AirPods and Dell laptop connecting process. Make sure your AirPods are charged completely first. After that, follow these simple steps
Step 1:
Click the Start button and enter settings. When the app appears, either select it or press Windows + I to quickly access it.
Step 2:
From the settings menu, select devices.
Step 3:
If "Bluetooth & other devices" is an option, your laptop likely has built-in Bluetooth capabilities. In the absence of such, your laptop may use Bluetooth USB dongles. If the Bluetooth toggle button is not set to ON, click it.
Step 4:
Click on "Bluetooth & Other devices" to be added.
Step 5:
Bluetooth must be added else other gadgets will appear. Choose Bluetooth.
Step 6:
Hold down the circular button on your AirPods or AirPods Pro for a few seconds. The AirPods' charging light will start to pulse white when you continue to hold down the circular button.
Step 7:
Look at the laptop, choose your device from the "Add, a device menu," and then click "Connect." Your gadget is prepared to leave, and you'll receive a notification.
Your airports have now established a connection with the Dell laptop.
Note:
Once you pair your AirPods, the pairing data will be kept on the laptop. As a result, when the matched laptop's power is on, it will automatically attempt to connect.
Here is a video showing how to connect AirPods to a Dell laptop.
How to Pair AirPods 2 with a Dell Laptop
The AirPods 2 are unique in terms of sound quality, and connecting them to your laptop is not at all difficult. Here's how to go about it.
On your laptop or computer, go to the action centre.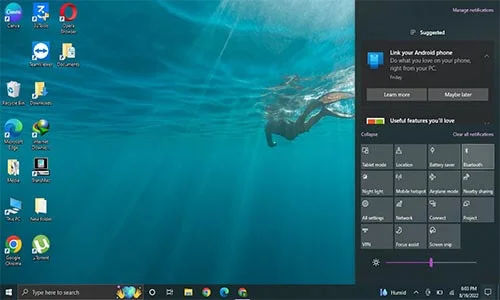 Click Bluetooth now, and then click Settings.
Open your AirPods 2 case when selecting add devices, then press and hold the button to turn on pairing mode.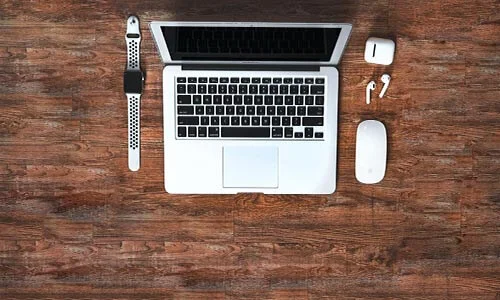 Wait until the LED light begins to blink, signalling that the pairing mode has been engaged.

The AirPods 2 must now be listed under Available Bluetooth devices or Discovered devices on your laptop. Connect it and you're good to go.
AirPods on a Dell Laptop with Windows 7
Let me start by saying that, yes, you can connect the AirPods to the Dell laptop even if you are using Windows 7 as your operating system. Let's examine how to achieve it now.
To begin pairing the AirPods, push the button on the case.
Go to the control panel right now.
Go to Hardware and Sounds right now.
Decide on Devices and Printers.
Then select Add a Device.
Selecting your AirPods from the list of compatible devices completes the process.
Dell laptop and AirPods reconnecting
Once paired, your AirPods will save Bluetooth data with the specified name. If they aren't recognised by your laptop, you haven't paired your AirPods with it.
Step 1:
Click the Start button, then type settings or hit Windows + I on the keyboard.
Step 2:
Choose "Devices" and get to the audio section by scrolling down. Choose your AirPods, then select the connect option. Your AirPods will immediately begin to function.
Taking AirPods Off of a Dell Laptop
Your AirPods can be easily removed from the laptop. Follow these three simple steps to accomplish this.
Step 1:
Click the Start button, then type settings or hit Windows + I on the keyboard.
Step 2:
Find the device heading in the settings and click on it.
Step 3:
To access the audio section, scroll below. Click "Remove device" after selecting your AirPods. Your Dell laptop will no longer be connected to your AirPods.
Conclusion
After using the aforementioned techniques, connecting your AirPods to your Dell laptop should be simple. You don't have to bother about the connection settings because laptops all have the same configuration for the Windows OS (operating system). I hope the steps for connecting the AirPods to the Dell laptop are apparent to you.
Frequently Asked Questions (FAQs)
Why won't my Dell laptop and AirPods pair?

The Bluetooth functionality on your device may need to be updated as the major cause. Simply switch off Bluetooth and the AirPods on your PC. Turn the Bluetooth and AirPods back on your laptop once some time has passed.

How do I link my AirPods to my Windows 10 Dell laptop?

Hold down the AirPods' button until a white light appears. Go to your laptop's Add a device option, where the AirPods must already be visible, and attach it to those. How To Pair Air Pods To Dell Laptop? [ 7 Easy Steps ]
You Can Also Check: How To Manage Audio Devices Windows 10 2022